What's New in Able2Extract Professional 16?
Working with PDF documents has never been so easy!
Discover what new features you can utilize with the latest version of Able2Extract Professional.
Accurately transfer table structure and cell styles into Excel
Now with the new smart layout detector, Able2Extract Professional 16 is capable of transferring complex table properties and cell styles (borders, background colors, merge info, fonts) to Excel spreadsheets with almost no formatting discrepancies.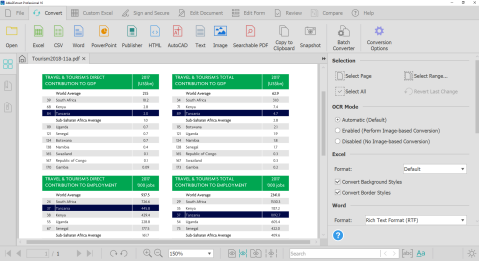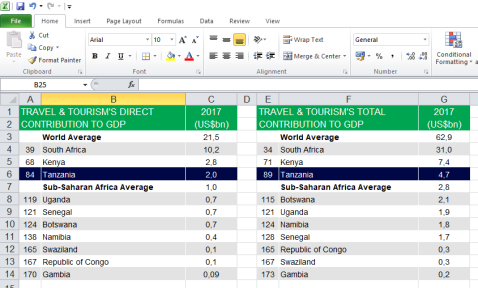 The smart layout detector will look for specific graphical attributes and place them along with the data in a tidy columnar format in your Excel spreadsheet, greatly increasing the readability of any table data and enhancing user productivity. The picture-perfect PDF to Excel output is now a reality with the latest Able2Extract Professional 16.
Compare any two printable documents
The tiresome process of comparing documents line by line is a thing of the past. Able2Extract Professional 16 is now equipped with a versatile document comparison tool that can effortlessly compare two documents side by side. Two documents can be compared even if they are in different file formats like native PDF and Microsoft Word.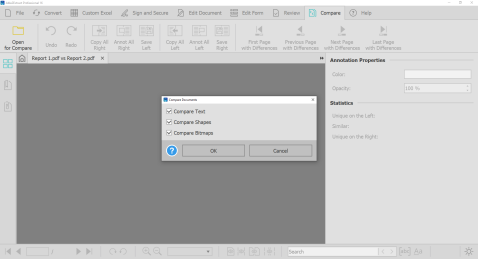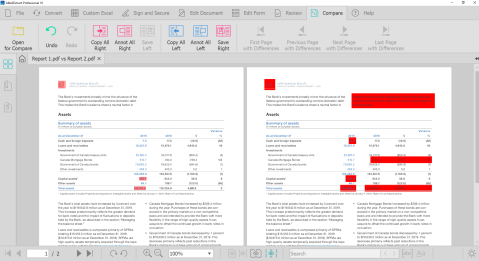 The new comparison tool will highlight content that is similar in both documents or unique for one of them, allowing users to quickly identify any variations between the documents, check for unapproved content edits, or confirm that no changes have been made. After examining the discovered changes, users can both annotate or copy those differences from one document to another.
The Statistics section in the right hand panel of the Compare tab shows an overview of unique elements in both documents, as well as the number of differences. Furthermore, users can change annotation properties when it comes to color and opacity.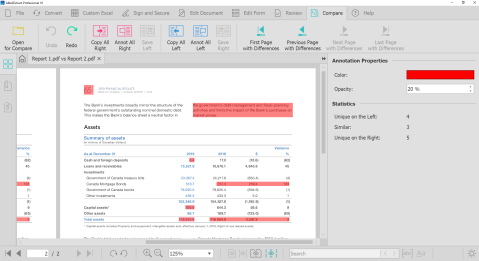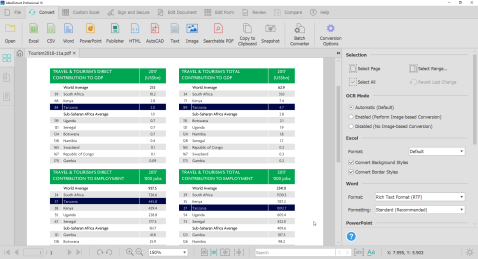 The Footer toolbar now shows the cursor's precise position. These X and Y coordinates indicate the distance (in inches, by default) between the upper left corner of the open document and the current location of the cursor. Users can change the coordinates unit to cm, mm, and points.
This new feature can be handy especially when users are in either Custom Excel, Edit Document, or Edit Form modes for setting up perfectly precise layouts, evenly distributed tables and other elements.
After introducing context menus in the previous version of Able2Extract PRO, the latest 16.0 version expands upon the feature with a couple of new context menu options.
Access the most important functions of Custom Excel, Edit Document, and Edit Form modes by right-clicking on a selected element, or by hovering over an annotated difference while in Compare mode.